Hello Everyone!
Posting a little late tonight, it's been a BUSY day!!
Here are the dolly news items that I found for this week!
Barbie is getting a new store in the Mall of America. The store will be opening in October2009 and is expected to stay open until March 2010! Maybe I'll make it ther
e before it closes!!
Barbie - Mall of America
What's the hoopla about??? People have suddenly started making a fuss over Gwen, one of the 2009 American Girl dolls. It turns out Gwen and her mother are homeless after being abandoned by her father. The public outcry is because not only is AG charging $95 for this doll, none of the money is going to HELP the homeless? What are your thoughts on this doll and her story?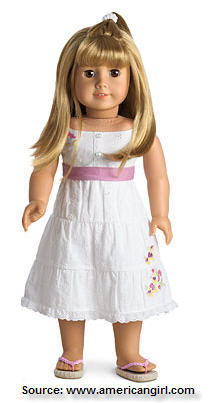 Speaking of costly dolls, you HAVE to check out the new BJD's that have been released for the Angelic Dreamz store! They are HOT!!

Jamieshow Dolls
I dont' see one making it into my collection anytime soon but they sure are yummy!
It's party time at Toys R Us!! They are having a Moxie Girl Party this Saturday from 12-2! Lots of fun games and giveaways. If you haven't seen the Moxie girls check my earlier post to see Sasha! you can see them all on their own cool website too:
Moxie Girlz
When you buy a doll, you get a secret code for the website, lots of fun and hours of entertainment I'm sure!
That's all for this week folks! Be blessed and I'll see you next week!!
Margaret